Six index funds now funds with a sustainable investment objective
Is it important for you that your investments support sustainable development? Then you may be pleased to hear that several Danske Invest index funds have now been categorised as article 9 products, referred to as funds with a sustainable investment objective, in accordance with EU regulations.


THE STORY IN BRIEF
Six Danske Invest index funds are now pursuing sustainable investment objectives known as article 9 funds under the EU's so-called SFDR regulation.
Danske Invest refers to these funds as Sustainable funds.
The number of Danske Invest funds termed "ESG Funds" is also being expanded.
Danske Invest is working to be able to offer more funds with sustainable investment objectives in the near future.
(Updated on 19 December 2021)
To accommodate the rising demand for sustainable investment products, Danske Bank is adjusting six Danske Invest index funds so they can be categorised under article 9 of the EU's Sustainable Finance Disclosure Regulation (SFDR). Going forward, this means the funds will invest in activities that aim to resolve some of the challenges facing the earth and also contribute to a more sustainable society.
"We have over several years developed a robust process for integrating sustainability into our investment processes for Danske Invest's funds. This is a key focus area for Danske Invest, and we have looked forward to being able to ensure the funds can be categorised as "Sustainable funds". The six funds therefore represent an important milestone in our efforts to constantly develop relevant and sought after investment products that are strongly focused on sustainability," says Robert Mikkelstrup, CEO of Danske Invest.

First steps towards a more sustainable offering
Common to all six funds is that they follow the EU's climate transition benchmark. That means companies are selected or deselected so that the overall fund portfolio helps reduce the impact on the climate and thus contributes to the green transition.
Initially, we will have six index funds from Danske Invest that comply with the requirements for being categorised as sustainable. However, we are currently working towards being able to offer more sustainable funds within both the equity and bond universes.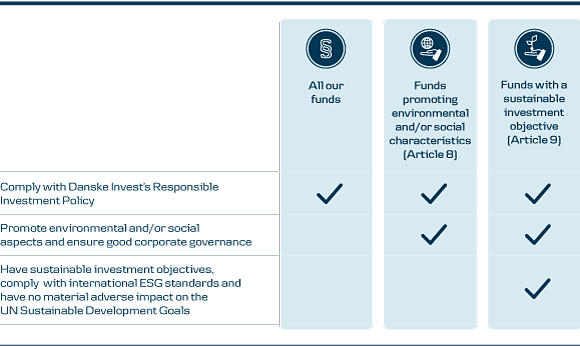 Selection of ESG investment products
As well as facilitating sustainable investment, Danske Invest is also expanding its palette of ESG investment products (ESG is an abbreviation for Environmental, Social and Governance). ESG investment products are Danske Invest funds that promote ESG aspects by, for example, investing in companies focused on climate and labour issues, diversity or anti-corruption.
Quite a few Danske Invest funds will continue to fall outside these categorisations. However, that does not mean they do not have to meet a number of requirements – as all Danske Invest funds are subject to Danske Invest's Responsible Investment Policy. This means, for example, that all Danske Invest funds refrain from investing in companies that base their revenues on tar sands or thermal coal, tobacco or controversial weapons, according to certain pre-set criteria, plus we work with active ownership.

What does this mean for you as an investor in Danske Invest?
If you have invested in one of the six Danske Invest funds, you do not need to do anything as an investor. The same applies to those funds now termed ESG investment products. Moreover, fund fees and charges will remain unchanged.
Danske Invest's
lists of funds
show you which category all the various funds fall under. You should always consult with your advisor if you have any questions or are in doubt about anything. You can also visit
our responsible investment site
.
The new sustainable funds:
| | |
| --- | --- |
| Fund Name | ISIN |
| Danske Invest Index USA Restricted | DK0061270105 |
| Danske Invest Index Pacific incl. Canada ex. Japan Restricted | DK0061270022 |
| Danske Invest Index Japan Restricted, osuuslaji EUR W | DK0061269958 |
| Danske Invest Index Global Emerging Markets Restricted | DK0061269875 |
| Danske Invest Index Global AC Restricted | DK0061269792 |
| Danske Invest Index Europe Restricted | DK0061269602 |
(Please note that they are domiciled in Denmark)
This publication has been prepared as marketing communication and does not constitute investment advice. Please note that historical return and forecasts on future developments are not an indication of future return, which can be negative.

Always consult with professional advisors on legal, tax, financial and other matters that may be relevant for assessing the suitability and appropriateness of an investment.

Please refer to the prospectus and the key investor information before making any final investment decision. The prospectus, the key investor information of the fund and information regarding complaints handling (investor rights) can be obtained in English at danskeinvest.lu by clicking on "our funds" -> choose the relevant fund overview -> press relevant fund -> press "documents".

If the fact sheet relates to an ESG-fund or a fund with a sustainable investment objective, you can find more information about the sustainability aspects of the fund at danskeinvest.lu by clicking on "our funds" -> choose the relevant fund overview -> press relevant fund -> press "documents".

The decision to invest in an ESG-fund or a fund with a sustainable investment objective should take into account all the environmental and/or social characteristics of the fund, or sustainable investment objective as described in the prospectus.

Danske Invest Management A/S may decide to terminate the arrangements made for the marketing of its funds.