Chief analyst: Equity markets will recover
Headlines dominated by recent slump in global equity markets, but Danske Invest's chief analyst believes that the outlook is for markets to recover.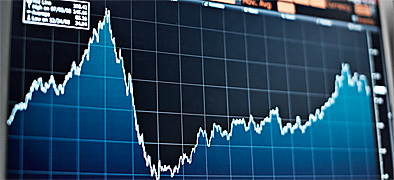 In recent weeks, many experts have been crying "Wolf" on account of the risk of a major market correction that would send stock prices even lower. Although markets have taken a beating lately, Bo Bejstrup Christensen, chief analyst with Danske Invest, does not waver in his view that the global economy is basically in good shape. The risk of further equity market volatility is not over, but as the economy continues to expand, equity investors will be facing better times, said Bo Bejstrup Christensen. He highlights three positive factors that are expected to reduce the current volatility.

US outlook remaining strong
Growth in the world's largest economy remains strong, and the outlook is for more buoyancy, Bo Bejstrup said.

"We believe that recent labour market and business and consumer confidence indicators point to growth continuing above the 3% mark. Furthermore, the sharp drop in the price of oil and, by extension, petrol, underpins consumer spending, boosting purchasing power. Consequently, we retain our forecast of growth above 3% in the coming months and job creation well above 200,000 per month. In other words, we believe the recent soft patch in the global economy to be driven by temporary concerns," Bo Bejstrup said.

Chinese slowdown coming to an end
The fast-growing Chinese economy has lost momentum, but the slowdown is not a cause for alarm, according to Bo Bejstrup.

"We do not believe that the Chinese economy is falling apart but that the soft patch has been triggered by a deliberate effort to curb the housing market and lending growth. The labour market has not shown any notable reaction to the growth slump, and wages continue their steady upward trend. This would indicate that the Chinese economy no longer needs to expand by 8% but rather can settle for a growth rate of 6%. As China's austerity drive draws to a close, we would expect growth rates to regain momentum," said Bo Bejstrup. He emphasises that China's economic growth remains a major risk factor to the global economy.

Lacklustre European growth bottoming out despite volatility
According to Bo Bejstrup, sluggish eurozone growth and recent soft economic data out of Germany do not imply that the European economy will be lagging on a more permanent basis.

"We believe that the current economic growth slump in Europe is temporary and triggered by factors such as concerns over eastern Europe, slowing growth in China and lack of credit growth from European banks. The two former aspects are of a temporary nature, we believe. Going forward, we would expect the finalisation of the upcoming stress test of European banks to lead to a gradual increase in lending growth," Bo Bejstrup said.