Further upside for Japanese equities
Powerful industry winners help make the Japanese equity market attractive even with recent rally.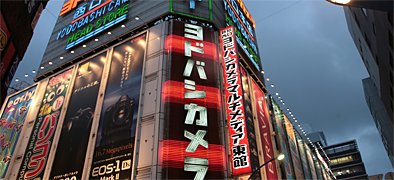 Japanese equities still offer further upside, even with the decent pick-up in prices since the end of October when the Bank of Japan surprised the market by announcing its intention to step up its purchases of Japanese equities and other assets.

That is the general assessment at Danske Invest and the fund manager's motivation for continuing to recommend overweighting Japanese equities. Chief portfolio manager Max Jul Pedersen, who advises on equities for Danske Invest's global equity portfolios, shares the optimistic views:

"I believe Japanese equities continue to offer an upside potential. Many Japanese companies are attractively priced and have stockpiled too much cash," he says.

At the same time, the weakening yen is good news for the many export-driven companies in Japan, because it makes their products relatively cheaper for foreign buyers.

Japan's industry winners
"The Japanese equity market is home to quite a few so-called 'world champions'; these are companies with a leading global position and up to a 70–80% global market share. Examples are companies producing small high-tech robotics components and operating in markets with high barriers to entry. Generally, many Japanese companies are well-positioned to capitalise on the trend towards increased production automation," says Mr Pedersen.

One of his personal favourites – and one that he has bought for the Global Stockpicking fund – is Toyota, the car maker.

"From our point of view, Toyota's share price is much too low given the company's powerful technology and strong position in the race to develop the cars of the future, such as hybrids," he says.

Slightly greater fluctuations
The Japanese equity index is currently at its highest since 2007. Nevertheless, the challenge when addressing the Japanese market is the fact that it is highly macro-driven – in other words, strongly influenced by general economic developments – and that many investors rush in and out of Japanese stocks depending on various factors, such as the value of the yen.

"This also means that when the Japanese market falls, it may drop a little more than other markets do. When that happens, even healthy stocks can take a fall, but we generally stick with our Japanese stocks even though we may from time to time adjust individual exposures," explains Mr Pedersen.

For European investors, it is important to remember that a further drop by the yen would eliminate part of the gains, but investors could counter this effect by buying shares in Japanese exporters that benefit from a weaker currency.