Three things to keep an eye on
Three things are on the agenda in the next month that could send markets up or down. Read on to see what you should look out for.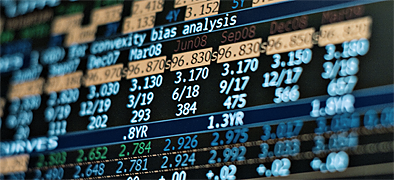 Equity investors need to be particularly vigilant in the coming weeks. Although global stock markets have performed well so far this year with double-digit growth rates, uncertainty and risks still abound. Danske Invest's chief analyst Bo Bejstrup Christensen picks out three events in the US in the coming month that have the potential to rock the markets.



Focus on US monetary policy
The Federal Reserve is likely to bring its programme of bond purchases to a close. While this is a first sign that we are approaching more normal monetary conditions, chief analyst Bo Bejstrup Christensen says that monetary policy is still a source of uncertainty for investors:

"It's no surprise that the Fed is putting these purchases to bed, but it'll be interesting to see whether it also changes its signals about the timing of future interest rate increases."

US midterm elections approaching
Elections to the Senate and House of Representatives will be held at the beginning of November. Recent months have been quiet on the political front, but the election results could impact on financial markets.

"We expect the Republicans to retain a majority in the House of Representatives, so the big question is whether they'll also gain a majority in the Senate," says Christensen. "If they do, this could very well bring uncertainty in financial markets, because the Republicans will then have greater scope to block the president's policies."

High hopes for Q3 earnings
The Q2 earnings season brought strong results, with companies reporting growing revenue and, to the surprise of many, further increases in profit margins from what were already historically high levels. This has led to very high expectations for Q3 – and so a greater risk of disappointment.

"Given the strong results last time around, there are high hopes for the coming season," says Christensen. "We expect companies to deliver on these expectations, but naturally there's also more scope for disappointment when expectations run so high."